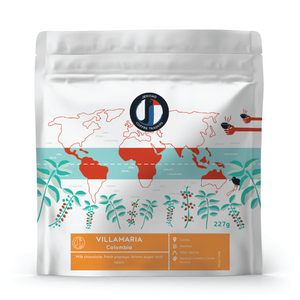 Notes: Milk chocolate, fresh papaya, brown sugar and raisin
We have enjoed some lovely coffee from Villa Maria before at JCT. Last time around it was a natutally process bean this time we are going with a washed process. Still some lovely fruits coming through. Enjoy!

Colombia produces some of the most consistent and delicious coffees in the world. This is the second time we have bought a naturally processed coffee from Colombia, because we love the cleanness and clarity that often exist in naturals from this origin, whilst still giving you the exciting, tropical and floral notes you might expect. It's still funky, but a little more refined.
Villamaría is a Colombian municipality located in the department of Caldas. The region is fed by numerous sources of water and natural resources. Villamaría is located a few kilometres from the city of Manizales, whose urban areas are surrounded by the Chinchiná River.
Raw Material have invested in a central collection point at Finca La Aurora and their drying station 'Jamaica' is located in Chinchiná, Caldas. The station currently represents the harvests of 30 to 50 coffee producing families in the surrounding area of Villarazo, sitting at altitudes higher than the drying station itself. As Jamaica sits at a lower altitude of 1300 MASL, it is better suited to the processing of honey and natural coffees due to the hotter temperatures found here.
The freshly harvested cherry is delivered to La Aurora where it is floated, sorted and left to rest in cherry for 24 hours. The cherries are transported to Jamaica the following day where they undergo a further 48 hours of fermentation in cherry.
They are then taken to drying beds in the greenhouse for around 15 days before being finished in the mechanical dryer for 3-4 days. This same process is used for the natural processing of the natural microlots from the Weredas of La Batea, Corozal, Villarazo and Miraflores.
Through the investment and support Raw Material offers to this region, it has resulted in extremely high quality lots (88-90pt) and consistent naturals from the cherries of Villamaría.
We hope you enjoy this coffee as much as we do. Please also know, that through buying this coffee you are helping support Raw Material's ongoing work in Colombia to improve household incomes, outcomes for women, and to encourage a shift towards more environmentally sustainable farming practices in Colombia.