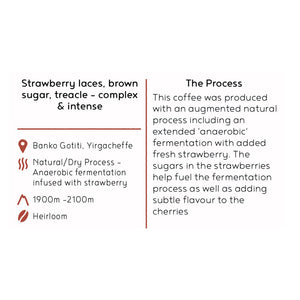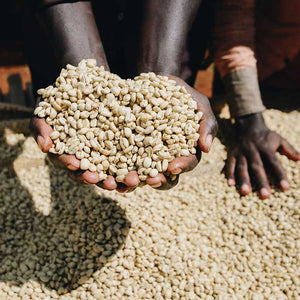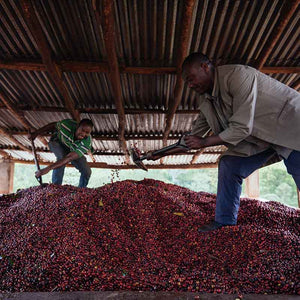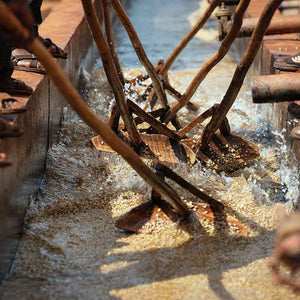 Notes: Strawberry laces, brown sugar and treacle.
This is an incredibly special coffee from the Yirgacheffe district in Ethiopia. It's naturally processed and undergoes extended fermentation with strawberries. Great as a funky espresso or a juicy strawberry-filled filter coffee.
Banko Gotiti in Yirgacheffe district in the 'Southern Nations, Nationalities & Peoples' (SNNP) region of Ethiopia. Over a number of years the region has developed a distinguised reputation for fine coffees, producing some of the most sought-after microlots in the world. The combination of high altitude (up to 2,200m in some areas), fertile soil, consistent and plentiful rains, and an abundance of local knowledge are all contributing factors to the high status of Yirgacheffe coffees. The indigenous 'heirloom' varietals - which grow wild in Ethiopia - are responsible for the unique flavour notes which make for an unusual but beautifully refined cup, characterised by strong citric acidity, sweet chocolate and floral/herbal notes of lavender, jasmine, bergamot and thyme.
This lot is naturally processed with an extended anaerobic fermentation period with added fresh strawberry. Ripe cherries are carefully selected and then fermented in sealed barrels with fresh strawberries for ~10 hours. The sugars in the strawberry help fuel the fermentation process, as well as adding subtle flavour into the cherries. The cherries are then dried in the sun on raised African beds for 12-15 days.