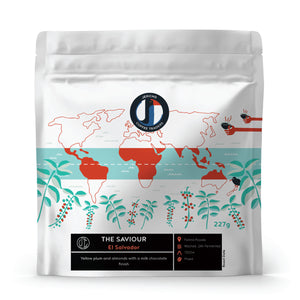 Tasting Notes: Yellow plum and almonds with a milk chocolate finish
At JCT we tend to look for particular flavours from El Salvador - often plum, sometimes a grape or rasin note paired with a dark chocolate. We have hit close to those notes this selection but gone a hint brighter and creamer. A choice we were happy to make. We would recommend this coffee for any brewing technique from espresso to pourover - we enjoy using this El Salvasdorian coffee as espresso or filter coffee in our shops. 
The people behind growing this delicous coffee from Familia Posada coffee are José Felix and Carlos Enrique, father and son respectively. Before getting involved in coffee, they were working together with cattle and vegetables. As the production of vegetables was less profitable in this region due to climate conditions and market prices, they switched to growing coffee in La Palma, Chalatenango.
José Félix, inhonor of his son's desire to work in coffee, decided to name the farm San Carlos after him. Years later, when Carlos had the opportunity to buy more land and grow coffee, he decided to continue with the tradition and named the farm San Carlos II.

Today, they only dedicate themselves to coffee cultivation. Carlos Enrique is the one who manages both farms, but together invest and manage business relationships and
commercialization of coffee. Currently, 80 % of the farm has been cultivated with yellow varieties, 70% is Yellow Catuai and 10 % Yellow Pacamara. This is unique and distinctive in the area because yellow varieties are challenging to collect for pickers. Yellow coffee varieties tend to have a mild to medium body with smooth and mellow flavors. The rest of the land is planted with Red Pacamara and Anacafe 14. All the coffee is fully washed, and in the future, they plan to start experimenting with the honey process to diversify and continue learning.