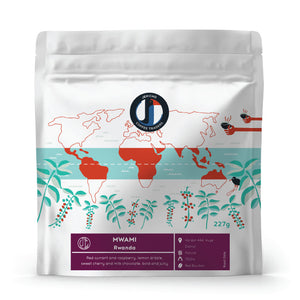 Notes: Juicy berries, orange citrus, caramel and chocolate finish

A big crowd favourite here at JCT, occasionally featuring as a stand-alone espresso at our roastery and high street espresso bars. For us it's our go to home brew, perfect as an aeropress. 
We often look at Rwanda to fill our Mwami slot in our range of coffee but will include some burundi samples on the table when we are going though the selection process - they often shares some notes we are looking for. This is one of those Burundi's that just beat out the rest - Delicious! 
This coffee is traced back to the Izuba Washing station in Burundi. Izuba meaning "sun" in Kirundi, is located in Runinya, Kabarore Commune, of Kayanza Province. The Izuba washing station is set close to a nearby river, providing a vital and regular freshwater source for coffee processing. Izuba employs 2 full-time staff and around 250 seasonal workers, who are all local to the station. Izuba is situated near to the Kibira national park, where the soil and climate are paired well for fantastic coffee production. 
The station aims to provide premiums where possible to not only the farmers but the station staff also. The employees were paid 25% higher than other local washing stations and 33% more than the national average salary. Producers are paid for cherry on two set payment dates in the year, which are also set by the government. The first is usually in April, very early in the harvest, and the second at the end of the harvest. Farmers essentially choose which station they will sell to that year through the first payment then deliver there for the whole season. At the end of the season third payments are made based on the quality and final sale price of the coffee. Making these three payments on time is a key concern for producers and one of Izuba's primary goals in supporting producers. 
All the purchased cherry is hand-sorted before a pre-pulp float, where any under ripe or damaged cherry is removed. The selected cherry is now pulped in preparation for fermentation. The now parchment coffee is fermented in concrete fermentation tanks for an average of 12 hours under water. During this time, the fermenting parchment is agitated several times throughout the day.  

After fermentation, coffee is released into a serpentine grading channel. This process separates parchment into different density grades. During this process, parchment is continuously agitated to encourage lower density parchment to float, and to clean residual mucilage from the parchment. At this point, coffee is taken to a pre-drying area where the parchment is hand-sorted to remove insect-damaged, discoloured or chipped beans. The parchment is laid out to dry and turned on a regular basis throughout the day for between 15 and 20 days depending on the climate.