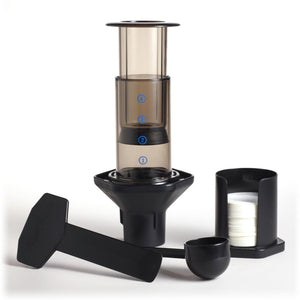 The AeroPress coffee maker is simple to use and provides beautifully extracted clean cups of coffee every time; just add your favourite coffee plus water! For best results, always choose an AeroPress grind.
Unlike other coffee makers that drip hot water onto the ground coffee, the AeroPress uses gentle air pressure to create a smooth, rich flavour with lower acidity and bitterness.
The AeroPress comes complete with a stand, stirrer, scoop and filter papers, which eliminates fine grounds of coffee in your cup. The paper filters can be used multiple times with just a simple rinse; they're compostable too!
Features

Brews smooth, perfect coffee every time.
Lightweight and portable - ideal for camping, holidays, and for cyclists!
Micro-filtered for grit-free coffee.
The 'press time' is just 20 seconds.
Quick and straightforward to clean; there are no fiddly parts to wash.
Includes 350

aeropress 

filters, scoop, funnel and stirrer.
Additional 
AeroPress filter papers
are also available.