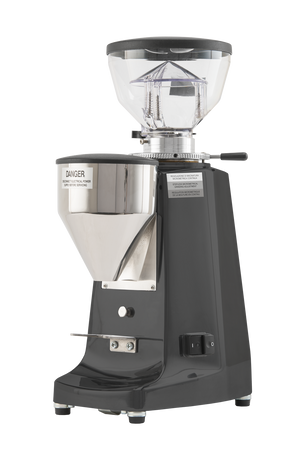 La Marzocco Lux D Home Espresso Grinder
The Lux D is the perfect choice for your home espresso grinder. It's been developed to meet the exacting standards of professional baristas but for ease of use within your home. 
The Lux D provides an on-demand dosing system with a portafilter activated switch that freshly grinds your beans directly into your portafilter for each dose you need.
And the Lux D is speedy: it can grind 18g of coffee beans in just 10 seconds! In addition, its 61 mm flat burrs with stepless adjustment means you can dial in the perfect grind each time and with an even particle distribution for improved coffee extraction.

The Lux D is supplied with a short hopper that holds 1.3 lbs (approx. 600g).

Burr Type: Steel flat
Hopper Capacity: 0.6kg / 1.3lbs
Grind Adjustment: Stepless
Burr Diameter: 61mm
Grinding Speed (rpm): 1400 @ 50Hz
Height: 47.5cm / 18½"

Width: 18cm / 7"
Depth: 25cm / 10"
Weight: 10.5kg / 23lbs
Voltage (VAC): 220 Single Phase
Wattage: 250W