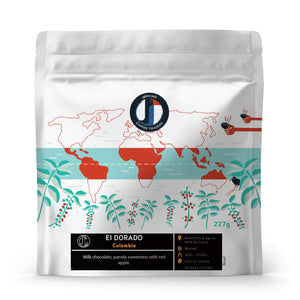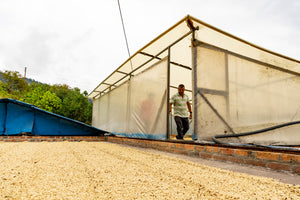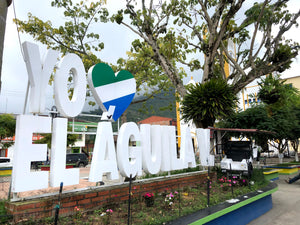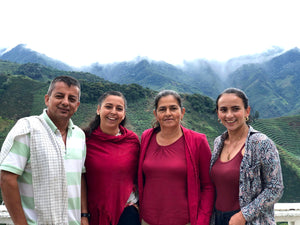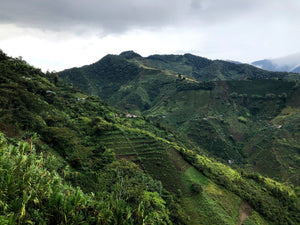 Tasting notes: Milk Chocolate, panela sweetness with red apple.
The El Dorado is a JCT classic and we've got the perfect coffee to represent the name - we hope you enjoy it as much as we do!
We have partnered with our friends at Raw Material for this year's El dorado. We needed a classic and tasty all-rounder that can be brewed as a single origin filter, but also stand up well as an espresso. As one of our most popular coffees, El Dorado needed to fit a specific profile to keep our loyal customers happy but also allow us to showcase just how delicious classic style Colombian coffees are.
We are excited to bring you our latest iteration of El Dorado – El Aguila, from the Valle Del Cauca region. This association comprises 93 different members and these producers are spread across a unique stretch of mountains in the Tatama National Park, between the Andres and Pacific Area of Colombia. This region is biologically abundant and a fantastic place for coffee production.
There are many reasons why we love to work with Raw Material, besides their delicious coffees. 100% of their profits go back to producers and their communities and they work directly with producers to ensure they have a sustainable reason to invest in quality. Here's some info on how they are working with the producers of El Aguila:
'In Colombia, we raise quality and shelf-life through low-cost interventions within existing structures. We do this by creating systems to ensure consistency of large lots at a community level. This in turn enables reliable, stable and improved household incomes for smallholder farmers through connection with roasters.
Our secondary focus is to shift the power dynamic in the coffee sector; as specialty becomes a norm, there are new opportunities for women to gain higher-income and higher-powered roles. The third area of focus is environmental; Colombia has a high average output per hectare, but this comes at the costs associated with mono-cropping and high-input farming techniques. ' – Raw Material.