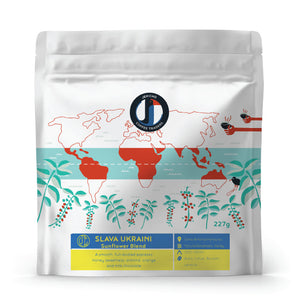 Tasting notes: full-bodied espresso with honey sweetness, almond, orange and milk chocolate
Slava Ukraini (Glory to Ukraine) is a fundraising coffee to offer our support to Ukraine.
10% of all sales of Slava Ukraini go to British-Ukrainian Aid, a charity supporting people suffering from the war and humanitarian crisis. 
Thank you to everyone who buys this coffee and shows their support for the courageous people of Ukraine!
Peace and love from all at JCT.