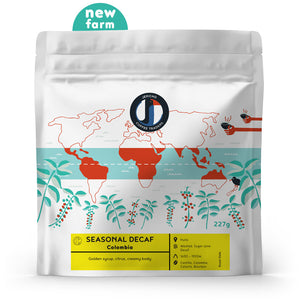 Our Decaf Coffee Subscription is the ideal gift for those who prefer their coffee without the caffeine!
Simply choose the size, grind type, how often we should deliver (1-4 weeks), and the number of deliveries you want in your gift subscription (3, 6, 12 or 24 deliveries), then we'll do the rest. They'll love you for it!
Delivery is FREE for this coffee subscription gift.
About our Decaf Colombia Sugar Cane
We are really excited about this decaf. On cupping it was sweet, juicy and fruity. It is a washed lot with a double fermentation process. Ripe cherries are fermented for 24 hours prior to pulping. After pulping, the coffee is further fermented for 12-48 hours in a tank, then washed with clean water. The fully washed coffee is then dried in the sun for 20-30 days on patios or in parabolic greenhouse-style dryers.
This lot was decaffeinated at the Decafecol plant in Manizales, in the department of Caldas. The decaffeination agent used is derived from a mix of acetic acid (vinegar) and a natural extract distilled from sugar cane, blackberries, beets or sometimes grapes. Once decaffeinated the beans are dried but not completely, 10-12% humidity remains, and then the open bean is sealed with natural wax that in no way affects the flavor, fragrance or aroma of the coffee. The resulting cup is floral with notes of hazelnuts, chocolate cake, bread pudding and passionfruit.