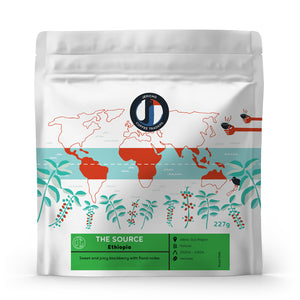 The Source – Adola 21
Tasting notes of sweet and juicy blackberry, with a floral finish
We love this coffee as a filter or an AeroPress, or a funky espresso based drink. Add milk and it tastes like a berry milkshake….
If there's one coffee fact you need to know about James at JCT, it's that he loves a naturally processed Ethiopian coffee, so our Source has to be up to par to keep the boss man happy.

We loved Israel Degfa Natural process 19/20 crop, so we're so pleased that this year's harvest is just as delicious.

Situated in the Guji, the Adola station processes coffees from over 1400 small holders in the region. Israel, and his team, work with producers through the Kerchanshe's network to ensure they receive health support as well as education and agricultural advice.

Israel Degfa is a shareholder and long-term friend of Kamba's. Israel has an incredible reputation for the coffee he produces and for the social and educational projects he runs in the farming communities he works with.