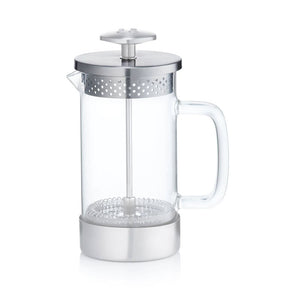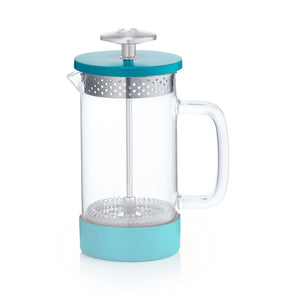 This stylish, sustainably-made cafetière (French press) is 100% plastic free: the body is made from borosilicate glass to withstand extreme temperature, while the lid and base are stainless steel. Even the internal flow filter is manufactured from medical-grade stainless steel!
This cafetière is the ideal choice if you are looking for a single-serve coffee maker. It's available as an 8-cup in silver, or a 3-cup in sliver or teal.
Smooth coffee every time- the extra-fine stainless steel filter ensures a thick and velvety coffee with the heavier body associated with speciality coffee brewed in a cafetière.
No nasty plastic - high-grade 304 stainless steel is used for the lid, base and filter. The beaker is made from thermal shock-tested glass.
Easy to use and clean - the large glass handle means you can hold it comfortably when it's full of hot coffee. The large knob offers improved stability when you plunge and allows the filter to be removed easily for cleaning.
It can take a knock- the stainless-steel base protects the glass beaker from any breakage and is removable. You can put the beaker in your dishwasher and wash the frame by hand.
Angled pour - the flow filter has a unique 360° design so the pour is controlled without having to align the filter to the pouring spout.