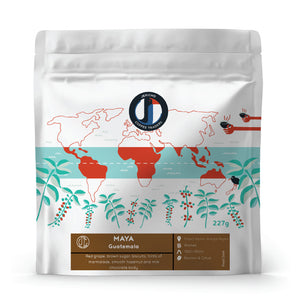 Notes: Red grape, brown sugar, biscuits, hints of marmalade, smooth hazelnut and milk chocolate body.
This is an absolute cracker of a coffee. A favourite as an espresso based drink. Add milk and it tastes of butterscotch and caramel. It's also great as a full bodied cafetiere, with plenty of richness.
The coffee from Proyecto Aurora consists of coffee cherries delivered by the employees of our wet mill and farm. The employees and their families own small estates that have been passed down from generation to generation. These producers represent an ancestral lineage of coffee production in the Antiguan region. Each year we make a commitment to buy all of their harvest and keep their lots separate so that they can pay special attention to the processes that they manage at Beneficio La Esperanza in regards to their own coffees. For them, it is a great satisfaction to see their coffee move through every step of the process and to see how their expertise is applied. Not only are they working their coffee through the wet mill and drying process but are also involved in the LVC Lab and the cupping of the coffees they produce. Proyecto Aurora is one of the rare instances where small producers are able to manage and be a part of every crucial step of the production of their coffee. One of the most joyous occasions in the LVC Lab is when they are finally able to all drink the final version of this lot with all of their employees!
Why is this coffee called Proyecto Aurora? For those of you that don't know, LVC's long time mill manager Saúl Pereira was once a famous soccer player for the Aurora Futbol Club which is the official team of Guatemala City. Our employees decided to call this Proyecto Aurora in honor of his illustrious career in both futbol and La Esperanza.