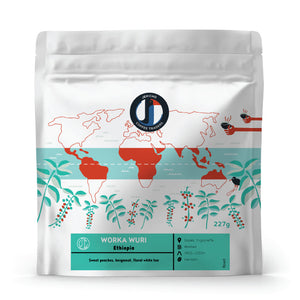 Notes: Sweet peaches, bergamot and floral white tea.
PERFECT as a sweet, fragrant filter or aeropress. We love this
We fell in love with Worka Wuri last year, so we're super excited to have secured more bags of this sought-after coffee again this year.
Worka Wuri is the name of the Washing Station, situated near Gedeb town, in the region of Southern Ethiopia. A large group of around 650 smallholder farmers harvest ripe cherries and bring them to the wet mill to be carefully sorted, pulped and fermented for between 36-48 hours. The seeds are then graded by density before being dried in the sun on raised African Beds.
There is meticulous care given to these coffees at all stages. The coffee is protected from the hot sun and covered between 12pm and 3pm and at night-time, covered again to protect it from rainfall and moisture. Once the coffee has fully dried to the right moisture level it is transported to Addis Ababa for dry-milling, grading, intensive sorting and handpicking, before being bagged in GrainPro for export and into the hands of excited Roasters, like ourselves.
This obsessive approach to quality is what keeps us wanting to come back to this coffee. It is a fantastic representation of the complexity of washed coffees from Ethiopia. Expect to find sweetness, floral high notes with gentle acidity running throughout. We recommend this for a pour over, but to be honest, it will taste as delicious as espresso with milk.